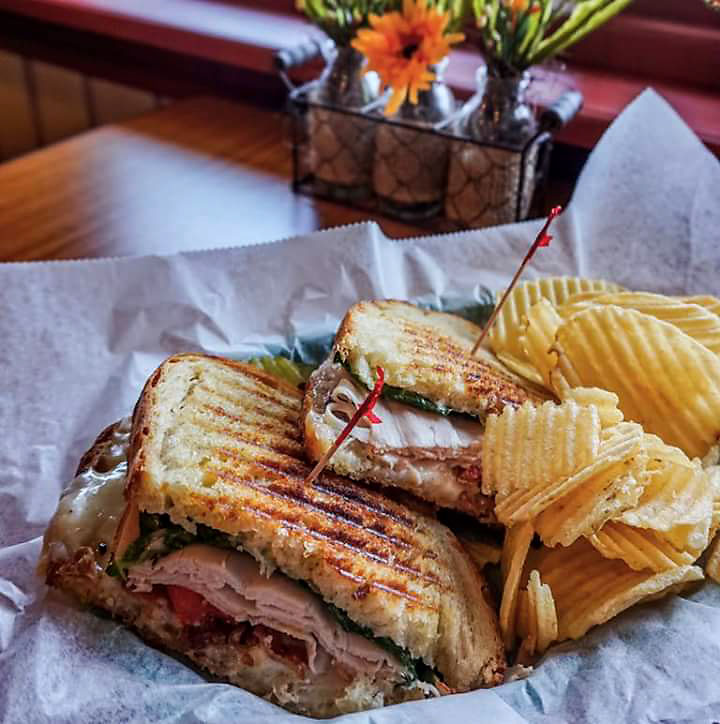 May 01

From Farm to Table

It's no secret Washington County is known for their incredible agritourism opportunities. But what does that really entail? If up to now, you've only visited the occasional farmers market to purchase locally sourced products, you are missing out on a veritable treasure trove of farm to table experiences!

The entire county is full of not just farmers markets, but farms and farm stores, craft beverage producers, cheese producers, and farm-to-table restaurants. If you haven't made your way over to Saratoga's neighboring county to experience local fare in a really special way you are missing out! Check out how you can support your local community while enjoying fresh and seasonable foods and beverages in the many nearby communities in Washington County.
Salem

Gardenworks Farm, photo provided
Gardenworks Farm
Gardenworks Farm is the epitome of a family farm – this third generation business has been farming for over 100 years! The original farm was purchased in 1911, when it was called the MacClan Farm and the family focused on cows and chickens.
Today, Gardenworks Farm has 12 acres, a greenhouse full of annuals and perennials, and a dairy barn with local cheeses, meats, organic vegetables, and baked goods. And, bonus: You can actually stay at this farm, as their family farm house is now listed on Air bnb.
Gardenworks Farm has something exciting going on all year long: the greenhouse is filled with flowers in the spring, you can pick your own raspberries or blueberries in the summer, pumpkins are available in the fall, and they even have a winter market on Fridays and Saturdays from early January through the end of March.
Battenkill Valley Creamery
You may have seen Battenkill Valley Creamery's milk being sold in your local grocery store, but did you know they have a creamery store and ice cream parlor in Salem? While you're stopping by for a sweet treat you can pick up farm fresh products from milk to cheese to grass-fed beef. In fact, they sell other local products at their store as well: cheese from Argyle Cheese Farmer, maple syrup from Wild Hill Maple, and much more.
As with Gardenworks, the family behind Battenkill Valley Creamery has been farming for over a century, with the venture growing from 12 cows to 350. The family started researching how to bottle their own milk on site in 2003, underwent serious renovations to their machinery in 2007, and began bottling their own farm fresh milk in 2008. In 2009, homemade ice cream was added to the roster and the ice cream parlor was opened at the creamery store. In 2010, they began offering a home delivery service. Who knows what could be next with this thriving dairy business?
R.S. Taylor & Sons Brewery
R.S. Taylor & Sons Brewery believes beer is an agricultural product and should be enjoyed as such, and that's why they brew their beers out in farm country. They use only the highest quality grains and a combination of hops grown at Misty Bleu Farm, Cold Springs Hops Farm (information below), and British-grown hops. The water they brew with comes from artesian wells on their farm. This is farm fresh beer at its finest!
In addition to beer, R.S. Taylor & Sons also offers a small amount of local fare like cheeses, fresh salads, and sandwiches, when in season to complement their brews. They source from a number of local farms such as Slack Hollow Farm and Goose Island Potatoes.
You can find R.S. Taylor & Sons at their farm and brewery in Salem or at their taproom on Congress Street in Saratoga.
Granville/Hebron

Cold Springs Hops Farm, photo credit: Dianne Porter
Cold Springs Hops Farm
Did you know we have a hops farm so close by? Cold Springs Hops Farm in Hebron was established in 2015 by co-owners Joe Porter and Paul Swanson, along with Joe Porter's son Greg Porter. After engaging in conversations with local brewers and the Hoppy Trails Brew Bus, they decided to plant an acre of Cascade and Newport hops and the small venture has grown from there. Cold Springs Hops Farm is now committed to growing the highest quality hops possible year after year.
Cold Springs Hops Farm works with Dry Town Hops for harvesting and drying, and they've sold their product to Adirondack Brewery, Mean Max Brew Works, R. S. Taylor & Sons Brewery, and Ledge Hill Brewing, and they're excited to be partnering with Slate Valley Brewing, another Washington County craft beverage gem!
During the growing season, which typically begins in August, you can reach out to Cold Springs Hops Farm to ask about a taking a tour. Many of us have likely been to a farm or certainly a farmers market, but just imagine getting to see how a hops farm works!
Dancing Ewe Farm
You might have seen Dancing Ewe Farm's fabulous cheese products being sold at the Saratoga Farmers Market. They're located right in Granville and they specialize in Tuscan-style cheesemaking. All of their products are handcrafted, and they only use raw milk from their own sheep.
Dancing Ewe Farm started out as a neglected dairy farm when the land was purchased by Jody Somers in 2000. Fields were taken over by honeysuckle and briars and deteriorating buildings dotted the property. Somers was receiving training in Large Animal Veterinary Medicine at the time, and was also training sheepdogs. He decided to take his career in a different direction and he actually moved to Tuscany for three years to learn how to make sheep's milk cheeses!
Upon returning in 2003, Dancing Ewe Farm began to take shape, with one of the declining buildings on the farm being transformed into a state-of-the-art cheese house.
The public is welcome to schedule a tour at Dancing Ewe Farm. Walk the fields, check out the cheese house, and learn all about the fascinating cheesemaking industry firsthand.
Liebigs' Strawberry Ridge Farm
Love picking berries? Head to the 118-acre Liebigs' Strawberry Ridge Farm in Granville! They grow over a dozen varieties of crops and specialize in u-pick strawberries, raspberries, blueberries, and pumpkins. Their season runs from June through October.
Leibigs' Strawberry Ridge Farm was established in 2011. They use sustainable farming practices like rotating and resting the fields – this is done so the soil on a farm is not used for just one set of nutrients. Whenever possible they rely on non-chemical means to control weeds and employ integrated pest management (IPM) ideals that reduce the use of pesticides. They also raise cattle on their farm, which are also rotated to different areas around the property just like the crops. They're fed a natural, grass-fed diet.
You can find Leibigs' Strawberry Ridge Farm products at the Cambridge Farmers Market and Lake George Farmers Market, or stop by the farm when they're in season!
Greenwich

Meal from Sweet Beet Bistro
Sweet Beet Bistro
If you're looking for the ultimate farm-to-table restaurant, look no further than Sweet Beet Bistro. This innovative restaurant works with around 50 local farms and producers, including Owl Wood Farm, Mack Brook Farm, and Maple Milk Farm, just to name a few. They utilize local ingredients whenever possible in order to ensure fresh, delicious produce, cheeses, meats, poultry, and seafood. In addition to the high quality fare, Sweet Beet Bistro also carries a unique wine selection of organic and local wines, and Argyle Brewing Company'sbeer.
Definitely consider stopping by Sweet Beet Bistro the next time you're thinking about a farm fresh meal. And, they also offer cooking classes, like pasta making – visit their website to see what's coming up!
Lewis Waite Farm
Love beef? How about dry aged, grass fed, and grass finished beef, along with all natural, GMO-free, pastured pork? At Lewis Waite Farm, owners Alan and Nancy Brown believe in conducting business as close to nature as possible. They also sell products from over 35 local family farms and producers, including meat, cheese, bread, produce, jam, and more.
Lewis Waite Farm is located on 450 acres of pastures, hayfields, and forests in Greenwich. Cattle and pigs enjoy a stress-free life, grazing on the land, enjoying fresh grass in the summer and hay in the winter. The cows are never fed grains, only grass and hay, which results in a high-quality meat that tastes better, is better for you, and actually cooks differently – the farm has grass-fed cookbooks you can make use of to determine the best cooking times and other tips for preparing grass-fed beef.
Fort Ann
Lake George Distilling Company
Lake George Distilling Company is a small farm distillery that was founded in 2012. As with other farm-to-table businesses, Lake George Distilling sources local ingredients whenever they can, specifically local grains, to create the best artisan spirits possible.
Their primary products include 32 Mile Moonshine, Apple Pie Moonshine, Indian Kettle Smoked Corn Whiskey, Adirondack Wildlife Whiskey, Bullhead Bourbon, and Red Rock Rye. If you're a Lake George buff, you might know that the pristine lake is 32 miles long – 32 Mile Moonshine is named for Lake George, and all of the other Lake George Distilling products are similarly named and created with our local area in mind.
Visit Lake George Distilling at their Fort Ann tasting room and see for yourself why local, handcrafted spirits are the cream of the crop.
Yoleberry Farms
Yoleberry Farms has traditionally operated as a berry picking farm, with strawberries, raspberries, and blueberries, but they're switching things up for the 2018 season. They're going to be operating in a "mini market" format and will be offering a variety of small fruits, vegetables, jellies, maple syrup, fall ornamentals, fresh cut flowers, and possibly some other local offerings. The farm is expecting to open mid-June, although they are still deciding on days and hours. Like them on Facebook to stay in the loop!
If you're someone who loves long drives in the country, just enjoying the rolling fields and blue skies, you'll love making a visit to Yoleberry Farms. They're located on Goodman Road in Fort Ann, which is off of the scenic Route 149 that connects Fort Ann to Lake George.
Whitehall

Lavenlair Farm
Lavenlair Farm
Are you ready for a truly unique farm experience? Have you ever been to a lavender farm where you could pick your own lavender, shop lavender products, and even go through a lavender labyrinth? Experience the wonderful world of lavender at Lavenlair Farm!
This farm has a fun backstory: Owners Diane and David Allen happened to spot a discarded lavender plant in a dumpster at a nursery. Not one to let a living thing die, Diane insisted on taking the neglected plant home along with the others the couple had purchased. They planted all their plants only to find that deer consumed all of their hard work – except for the lavender. The seed was planted to start a lavender farm.
Lavenlair Farm can be found in Whitehall and their season typically begins in mid-June. You can pick your own lavender – 32 different varieties! – in their spacious fields, shop their lavender products like lavender soap and lavender tea, and they have a lavender labyrinth you can make your way out of. Also, if you're interested in cooking with the lavender you purchased, ask the owners for some recipe tips!
Historic Grounds Cafe
Historic Grounds Cafe in Whitehall is all about supporting local businesses and farms, such as Battenkill Valley Creamery and Scribner's Maple Syrup. Their handcrafted menu has been created with care and features homemade, local food, and of course, coffee!
They specialize in prime, freshly ground coffee and specialty drinks like espressos, lattes, and cocoas. Food-wise, you can expect house-roasted meats, homemade soups, fresh salads, delicious sandwiches, and a number of baked goods, like popovers, scones, muffins, and pastries.
Owners Nat and Nancy Huntington purchased the building for Historic Grounds Cafe in 2014 with the intention of creating a space where the community could gather for good food and good conversation. The coffee house is situated in a historic building that was constructed in 1906 and was originally the First National Bank of Whitehall.
Hudson Falls
Forged
Forged opened in just 2017, but the modern restaurant has already proven itself to be a vital addition to the Hudson Falls community. This fine dining farm-to-table restaurant is located in the former space of the Washington County Courthouse, providing for a really unique ambience. The restaurant works with local producers to serve up incredibly fresh and delicious fare like ratatouille, braised fennel, and beef carpaccio. And, their house bread served up with whipped house butter is absolutely to die for.
Although Forged is considered to be a fine dining establishment, they also have a number of tempting gastropub options as well, like gravy fries and buffalo chicken egg rolls. As you can see from their menu choices, they like to put a fun twist on classic dishes to keep things fresh!
You can find the gastropub fare in the bar area, the upscale dishes in the main dining room, and then they also have a special Chef's Kitchen Table: Make a reservation at the Chef's KT, as they refer to it, and you'll get a special chef's choice tasting menu not available to the other diners, your own team of servers, and a more interactive dining experience.
Sandy Hill Farmers Market
The Sandy Hill Farmers Market can be found in Juckett Park in the heart of Hudson Falls and it typically runs from early July to early October on Sunday mornings. You'll find fresh produce, local honey, and much more.
Although there are other farmers markets in the area, the location is what makes this one special: the market is situated in a beautiful park setting that is close to the main street in Hudson Falls with great eateries and shops nearby.
Cambridge
Cambridge Valley Farmers Market
As with the Sandy Hill Farmers Market, one of the things that makes the Cambridge Valley Farmers Market special is its location. The market operates on the green space at the intersection of Main Street and Broad Street in Cambridge, which is close to the Cambridge Community Garden and ample shopping opportunities at stores like Shiny Sisters and Battenkill Books.
The Cambridge Valley Farmers Market starts its season in mid-May and is open on Sundays from 10am to 2pm. Vendors sell local produce, pasture raised meats and eggs, gourmet baked goods, maple products, local wines, artisan breads, and unique handmade goods.
Common Sense Farm
You might be hard pressed to find a more unique farm than Common Sense Farm in Cambridge! This multi-faceted business consists of an organic farm situated on over 100 acres where they grow vegetables, herbs, and produce grass-fed beef, but they are perhaps best known for their amazing skincare products. The owners have converted a large barn on the property into a workshop for organic bodycare products like soaps, lotions, healing products, and much more.
Common Sense Farm uses no synthetic preservatives, fragrances, or potentially harmful ingredients in anything they produce. Their focus is on creating products lovingly with care and common sense.
Argyle
Moxie Ridge Farm & Creamery
Moxie Ridge Farm & Creamery in Argyle is committed to going back to the basics: raising animals on a farm on what is grown locally, so their meat, milk, and eggs can develop unique and rich flavors based on where and how they lived. If you're looking for a farm that treats their animals with care, Moxie Ridge Farm fits the bill.
Meat chickens are free-range and they forage on local, non-GMO grain and whey. They also drink cultured milk from the farm creamery in order to produce juicy, tender meat. Cheeses are made on the farm from Alpine and Saanen goats, and cows milk cheeses are made from Jersey cows from a neighboring farm.