Jan 31

How to Prepare for Your XC Skiing Trip in Washington County

By now you're probably familiar with the many trails in Washington County, but do you know how to prepare for cross-country skiing in New York?

While this winter hobby requires relatively little equipment and training, there are still a few tips to keep in mind before you hit the trails!

Cross-country skiing is a pretty physical activity, and while you can surely move at your own pace, you'll want to consider your outfit carefully. Unlike what you may expect, many cross country skiers recommend dressing in easily removable layers. We know it's tempting to bundle up for winter activities, but you may get hot after starting your trek.

Remember: One of the easiest ways to warm up or cool down is to put on a hat or take it off!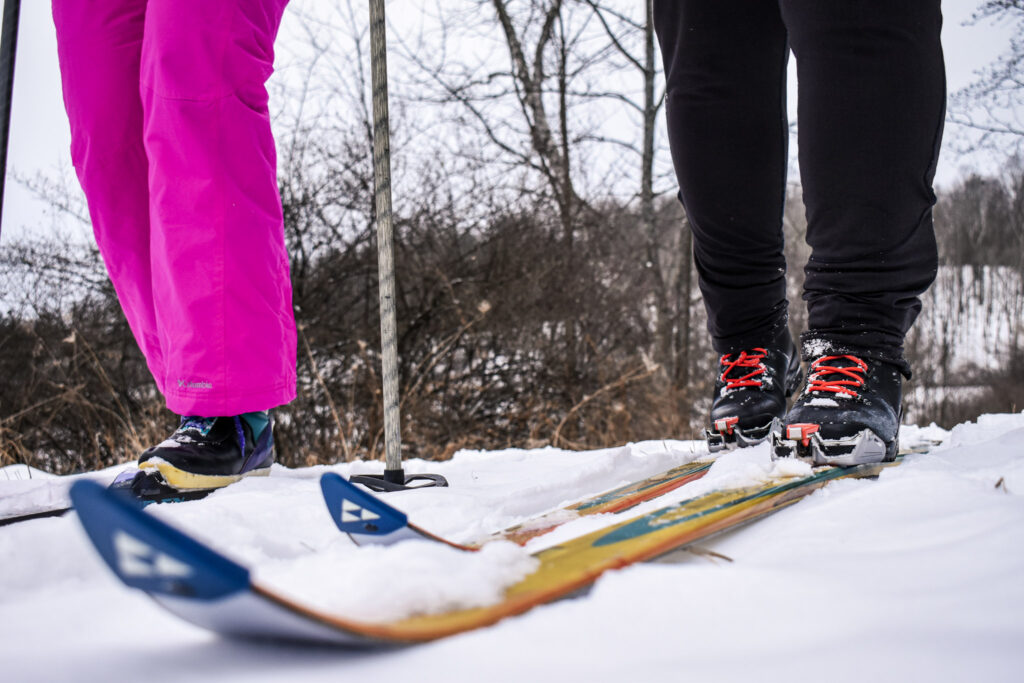 Another great tip is to ensure your gear is weatherproof. Snow clings to most everyday fabrics, so be sure to test your gloves, pants, and jacket for their ability to let moisture roll off. There's nothing worse than a pair of pants that's damp around the ankles!
Skiers of yesteryear would often dress in tall, woolen socks and knickers. Today we have gaiters: water-repellent cuffs to cover the tops of your feet and come up almost to the knees. But you don't need specialized gear, see what you already have at home!
Lastly, be sure your gear can hold essentials like your car keys, cell phone, and water and snacks. Just like warm-weather hiking, it's important to be overly prepared for a change in the weather or a longer hike than intended.
Once you're well-dressed it's time for the next most important part: your skis! Not all skis are made the same, and you won't want to be caught on the trail with downhill equipment.
Cross-country equipment is light and flexible. The skis are long and thin, the boots are more like hiking shoes, and the poles are longer than downhill poles. If you're not ready to invest, check out local sports shops for rentals!
Last note before you hit the Washington County trails: don't forget to wax your skis! 
Now that you're dressed and ready to explore Washington County's great winter trails, you can pick a location that suits your experience and style.
Speaking of experience: If you're new to the sport, there's no better time to learn than right now! Grab a friend who can show you the ropes or take a few classes with an instructor.
Once you're feeling confident, you can bring those cross-country skis just about anywhere there's snow! Our many state and town parks are open for snowshoeing and cross-country skiing, but may not have groomed tracks so keep that in mind!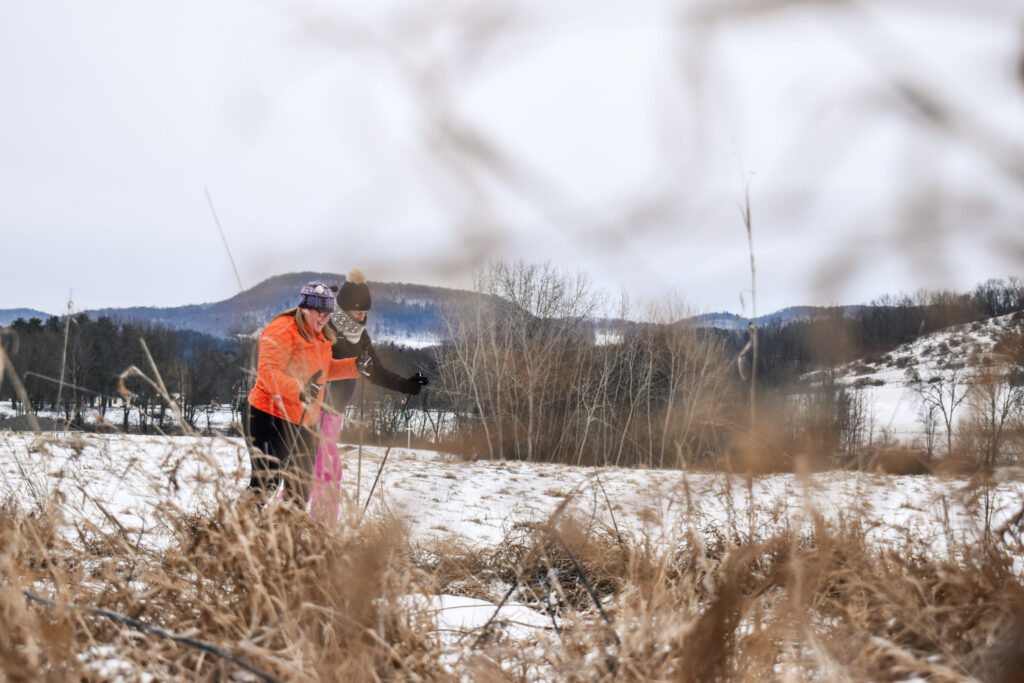 A few more tips for hitting cross-country trails in New York:
Like any other aerobic activity, it's important to stretch before you hit the trails! This will help reduce muscle soreness and ensure you're warmed up properly. Don't forget those biceps and triceps: cross-country skiing works your arms, too!
Don't forget the sun protection! Even though the sun is much less strong in the winter, the light reflected off the snow can cause burns (and even "snow blindness"). Remember your sunscreen and sunglasses with good UV protection.
Drink plenty of water, even if you don't feel thirsty. Staying hydrated helps to keep you warm.
Know your limits, ski with a buddy, and make sure someone knows where you're headed.