Jun 02

Shop Local for Food: Hit Up Farm Stands, Order Home Delivery & More

There's no better way to eat fresh and healthy than to go straight to the source – the farm. Right now, a slew of local farms are offering delivery, pickup, and/or have farm stands open. Many are carrying products from neighboring farms, so you can get a wide range of items in one go. Check out who's offering what below!
Get Fresh Goodies Delivered to Your Door
For those who appreciate the home delivery service, check out these farms and businesses who can ship to you. Some of them also have their own farm store open.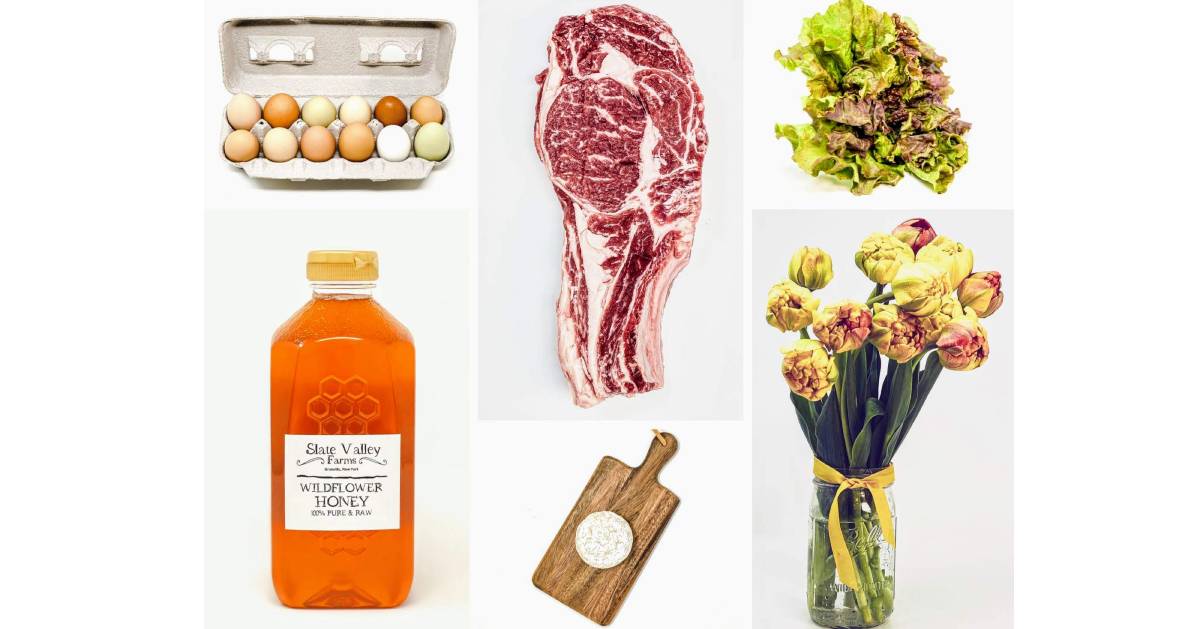 These are examples of items that might be included in a Moxie Box. Photo provided.
You can get farm-fresh goodies delivered to your door from Moxie Ridge Farm & Creamery, who is offering "Moxie Boxes." A Moxie Box is a custom weekly box filled with items like cheese, eggs, whey-fed pork, beer from RS Taylor & Sons, and vegetables from Owl Wood Farm. Boxes are $30, require no commitment, and they're adding new offerings and expanding the delivery area all the time. (There is no farm store at the moment.)
Pictured above clockwise from the center: grass-fed ribeye steak from Mack Brook Farm, red leaf lettuce head from Owl Wood Farm, a tulip bouquet from Lot 32 Flower Farm, pinwheel fresh-ripened goat cheese from Moxie Ridge Farm, wildflower honey from Slate Valley Farm, and free-range eggs from Moxie Ridge Farm.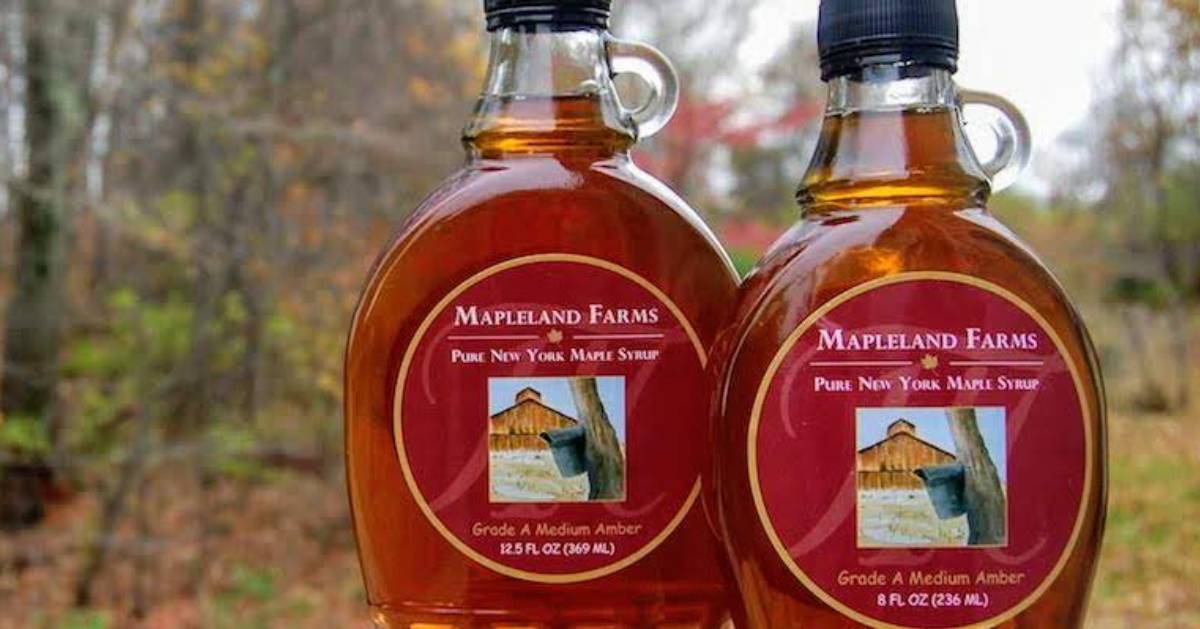 Browse their website for recipe suggestions and more for this award-winning syrup.
Order maple syrup, cream, fudge, sugar, and more through Mapleland Farms' website to get shipped to you (they are not doing pickup at the farm at this time). This family-run business knows maple – the two brothers grew up gathering raw sap from trees and transporting it to their grandfather's sugarhouse. Today they tap over 19,000 trees. They also offer additional products like nuts, barbecue sauce, and mustard.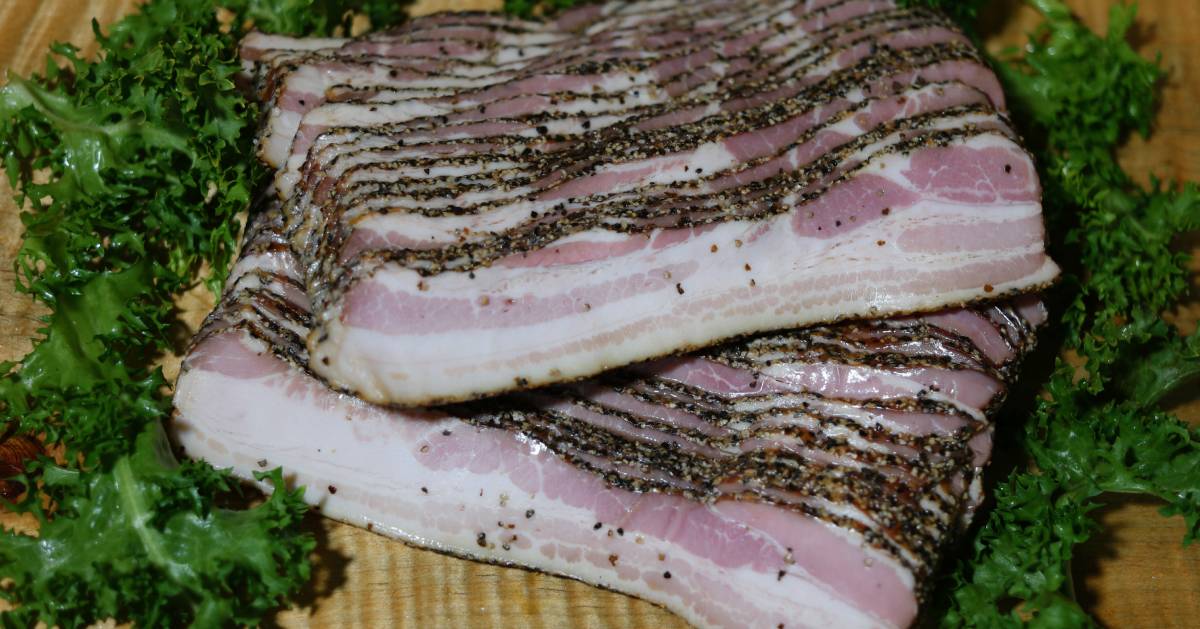 Kick breakfast up a notch with this thick sliced black peppered smoked bacon.
Center cut smoked ham steak, smoked Canadian bacon, pickled polish sausage, boneless smoked pork chops – these are a few of the meat options you can purchase online from Locust Grove Smokehouse. They also have a retail store located at 4725 Route 40 in Argyle open Monday through Friday, 8am to 5pm, and Saturday 9am to 4pm. The store carries smoked meats, beef, pork, poultry, local milk, ice cream, and eggs.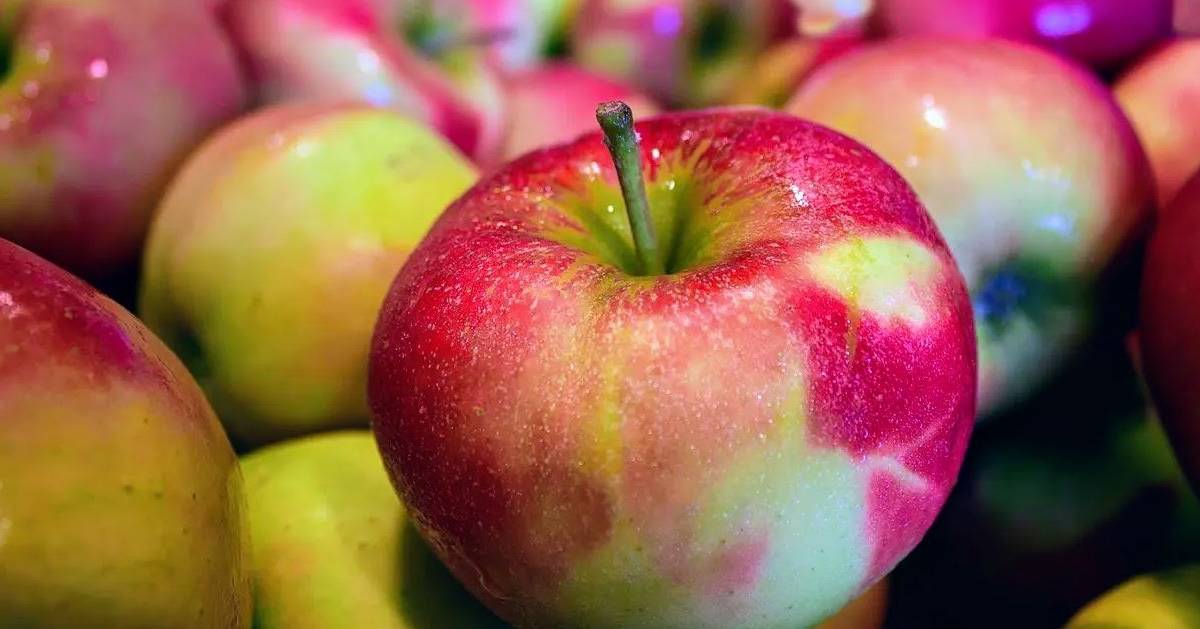 As they say on their site, Honeycrisp is more than an apple variety – it's an eating experience!
Honeycrisp.com sells more than just the hugely popular variety of Honeycrisp. You can order Cortland, Empire, Fuji, McIntosh, Pink Lady, Red Delicious, and several other types of apples for home delivery from this Greenwich-based business.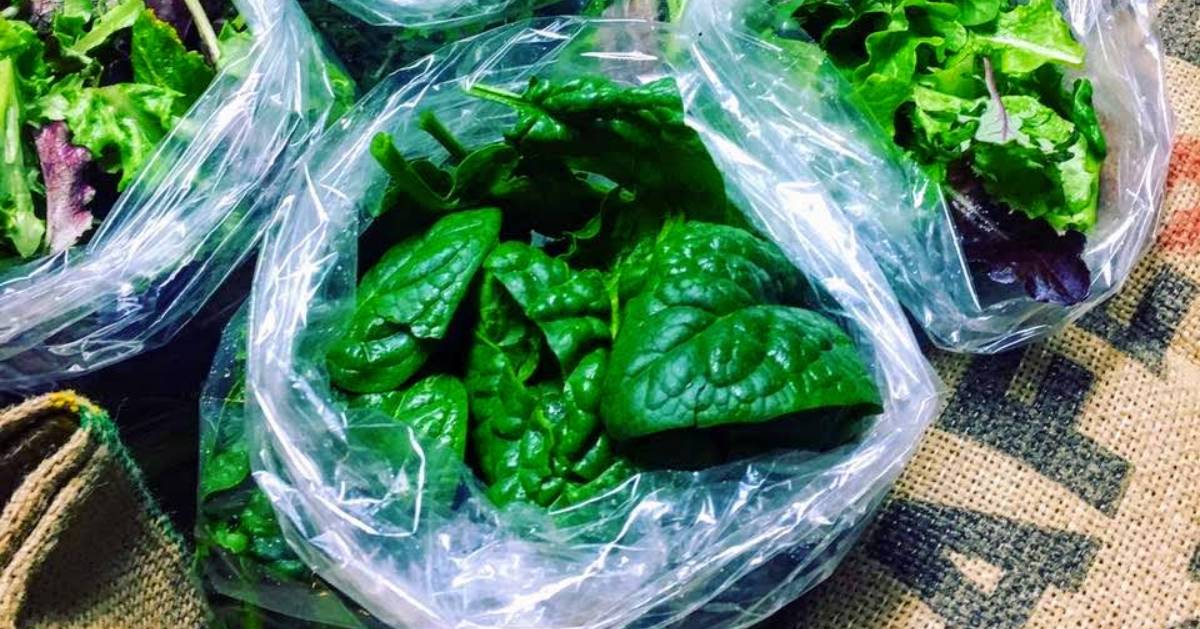 Fresh Take Farm grows produce using state-of-the-art tunnel farming. Photo provided.
Fresh Take Farm offers delivery to select areas within a 15- to 20-mile radius from their farm at 1731 Route 31 in Granville Monday and Saturday; they also have pickup at the farm available on Monday, Wednesday, and Saturday. Place orders 24 hours in advance so they have adequate time to harvest, wash, and pack your order. Products you can check out on their website include eggs, greens, spinach, sweet potatoes, kale, syrup, and honey.
Find Farm Stores, Stands & Pickup Options Near You
Pick a sunny day ideal for a drive into the country to purchase farm fresh produce and other local items! Make sure to check out each farm's hours, products, and additional information before heading out.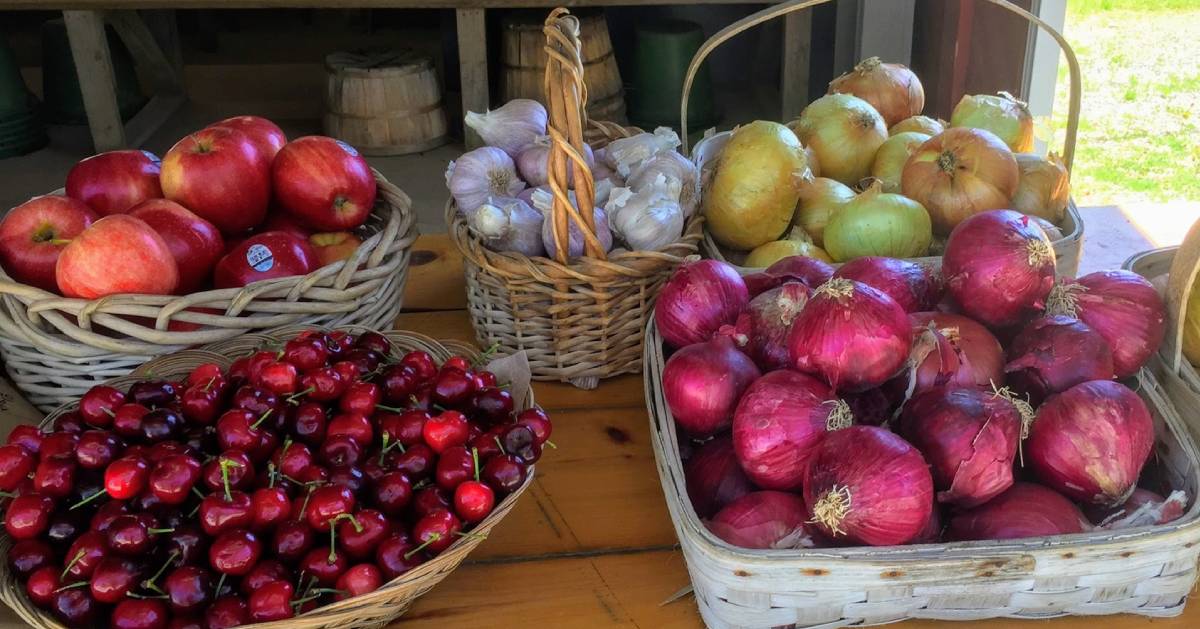 Check them out on Facebook to see produce currently available! Photo provided.
Moses Farm is welcoming patrons with masks at their farm store, open daily from 9am to 5pm at 128 Route 67 in Eagle Bridge. Recently they've been offering up produce items like tomatoes, peppers, lettuce, squash, sugar snap peas, Brussels sprouts, zucchini, onions, and more, including meat, salsa, and syrup. They also have hanging baskets!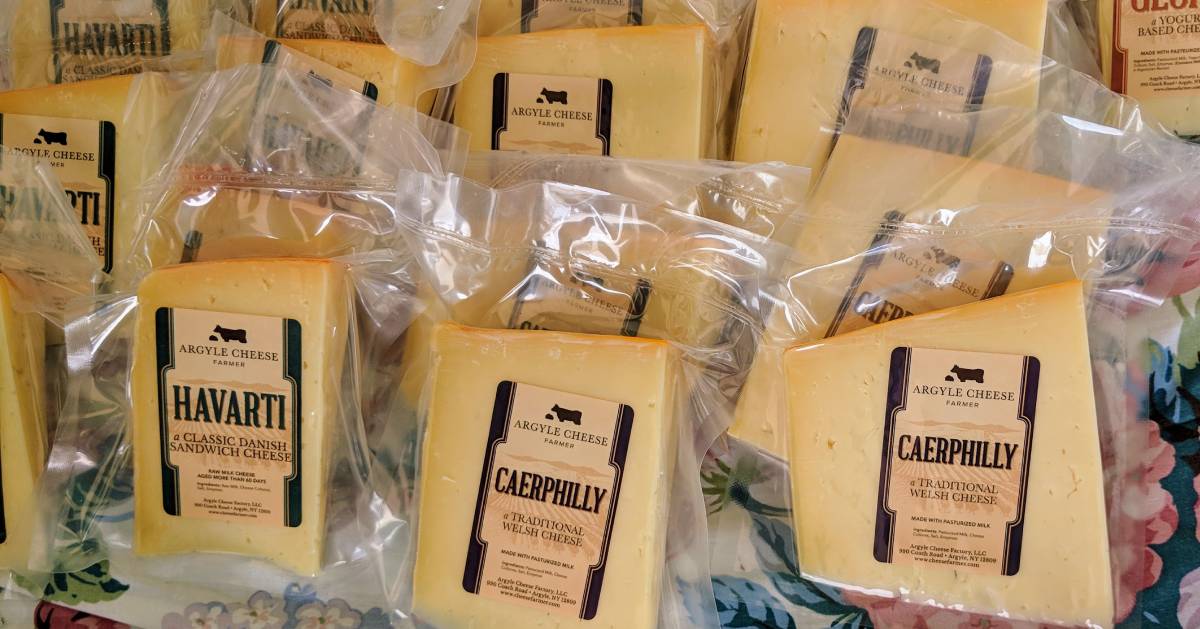 Argyle Cheese Farmer produces more than 12 types of cheese and are known for their aged cheeses.
Argyle Cheese Farmer is currently offering local pickup locations and times for online purchases, but that's not all! You can buy their renowned cheese, cheese curds, yogurt, and other dairy products at their farm at 990 Coach Road in Argyle, or at their newly opened location at 2358 Burgoyne Avenue in Hudson Falls. Check Facebook for current hours for each location, or order through their website and schedule a pickup time.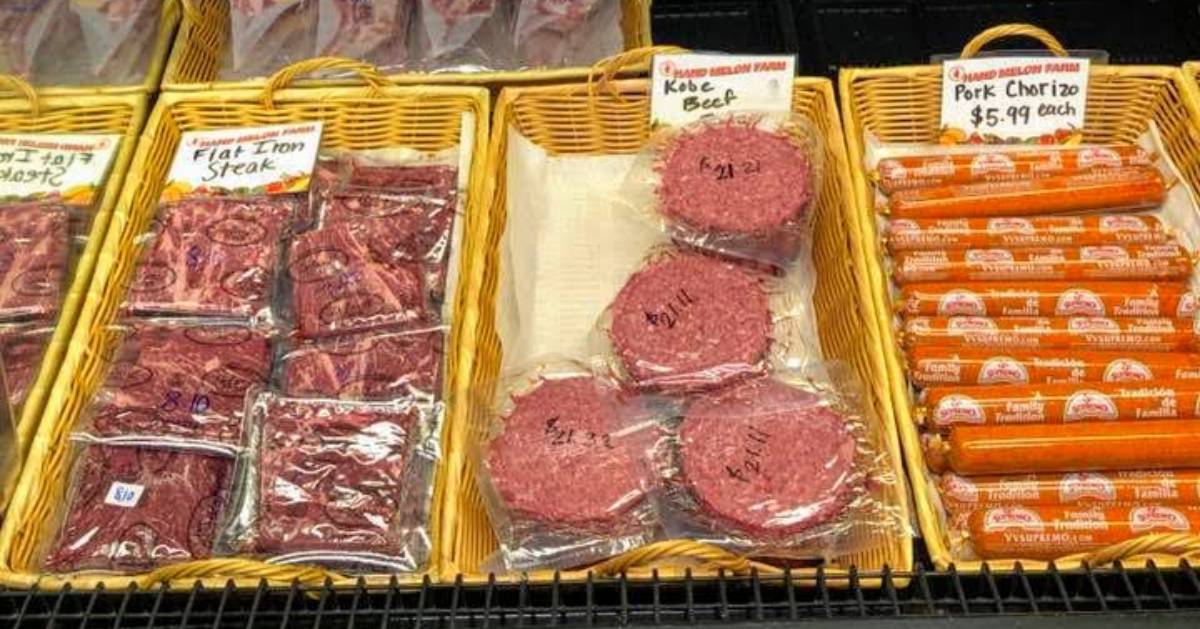 Hand Melon Farm – much more than melons! Photo provided, credit to Terry Kilmer.
Hand Melon Farm at 533 Wilbur Avenue in Greenwich is currently open from 10am to 5pm daily, although may add weekend hours. Follow them on Facebook to see what's currently available – they've recently offered everything from flat iron steak to fiddleheads, as they're selling items from other local farms in addition to their own products as more produce items come into season.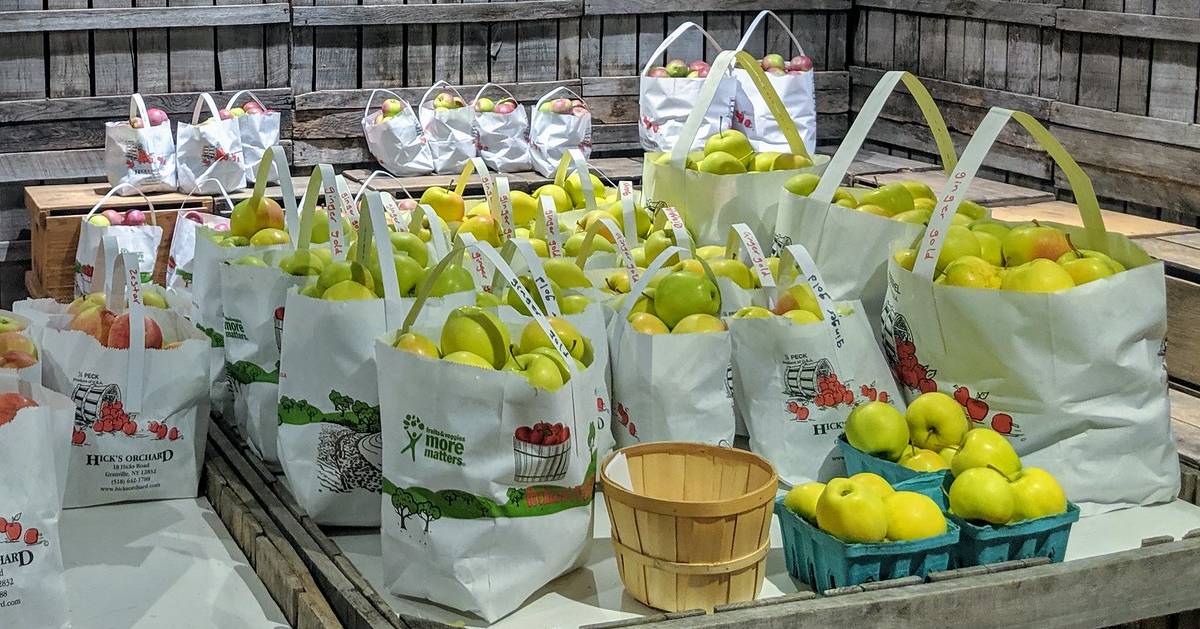 "U-pick up" options include 1/2 peck, peck, or 1/2 bushel of apples.
You may not get to participate in "u-pick" right now but you can do a "u-pick up" (curbside pickup) at Hicks Orchard – or simply visit their store. They're located at 18 Hicks Road in Granville and are open, including for the u-pick up, Saturday and Sunday 10am to 4pm.
In addition to apples, fresh-pressed cider, hard cider, and cider doughnuts, they're offering specialty items and baking supplies like pancake mix, frozen pie, maple cream, and apple butter. Guests are also welcome to take a walk in the orchard at this time.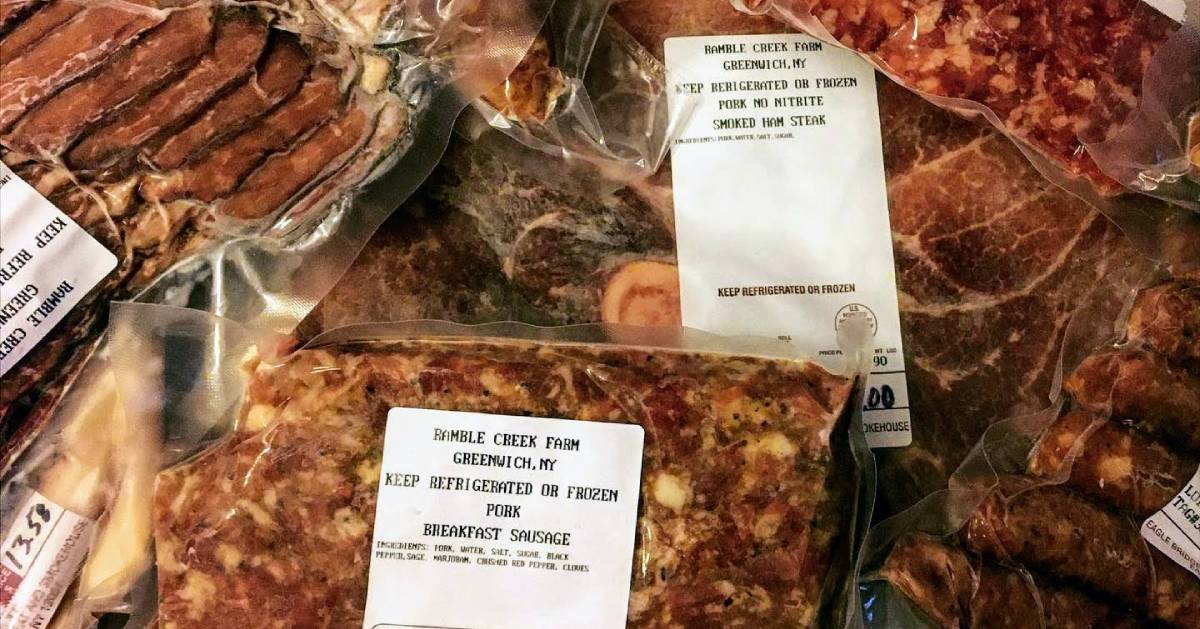 Check out breakfast sausage, spare ribs, chicken wings, and much more. Photo provided.
Ramble Creek Farm specializes in pastured poultry, forest-raised pork, and specialty mushrooms. You order online and select a pickup location, either at the farm at 49 Clark's Mills Road in Greenwich, or at the Saratoga Farmers Market in the Wilton Mall parking lot by BJ's, 3067 Route 50 in Saratoga Springs. (They also offer pickup at the Union Square Greenmarket in New York City.)
You can find an ordering and pickup schedule on their website, along with great information on how this farm utilizes sustainable practices to ensure the animals and land are treated with care.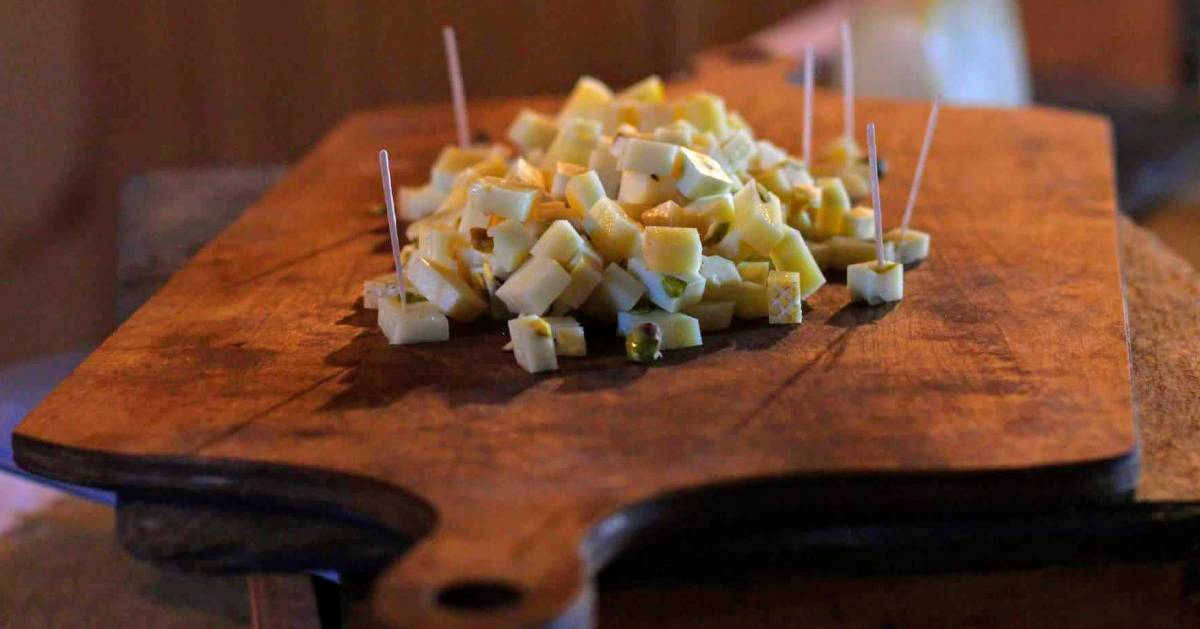 Dancing Ewe Farm is dedicated to preserving the art, technique, and culture of Tuscan-style cheesemaking.
Find Dancing Ewe Farm on Facebook for the latest information on offerings and hours their farm is open. They're located at 181 Route 12 in Granville. Recently they've offered 100% pure sheep's milk ricotta, blended ricotta (cow and sheep), sausage, baguettes, and Italian wines.
They ask when you arrive to please wear a scarf or mask and respect appropriate physical distance recommendations with others – except the lambs, which you are free to visit with.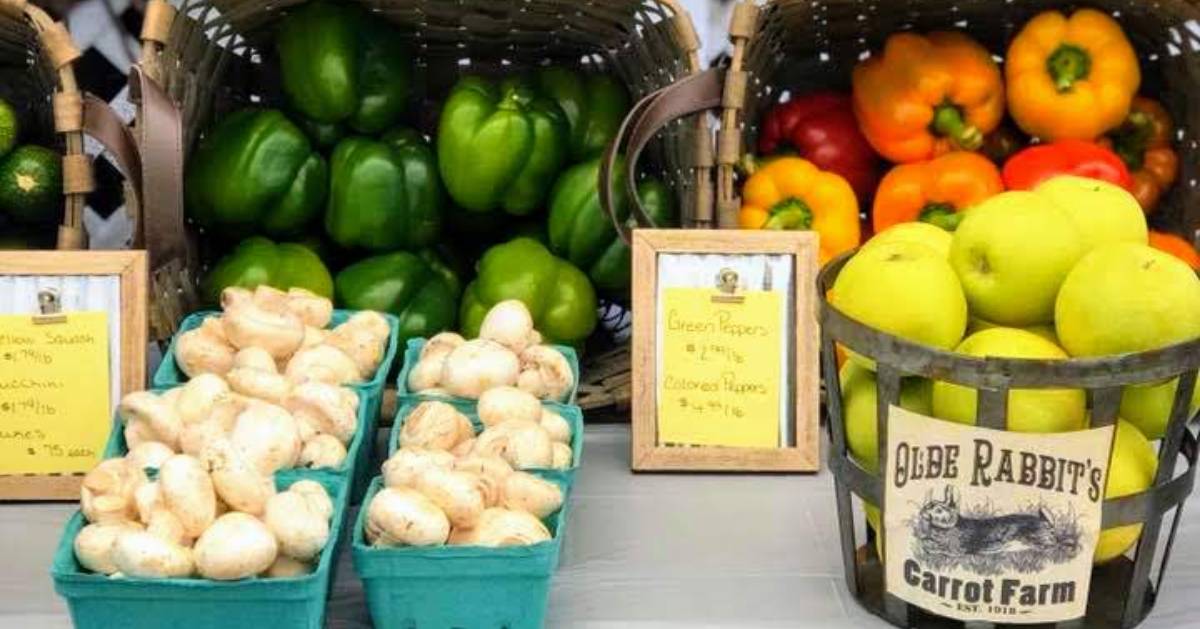 Check out Braydon's Garden's Facebook page for the latest offerings. Photo provided.
Although primarily known for their bedding plants and hanging baskets, Braydon's Garden also carries produce from other farms, including tomatoes, apples, sweet potatoes, red onions, cucumbers, and mushrooms. They also sell vegetable plants, if you're interested in growing your own! The store is open daily from 9am to 6pm and is located at 328 North Main Street in Salem.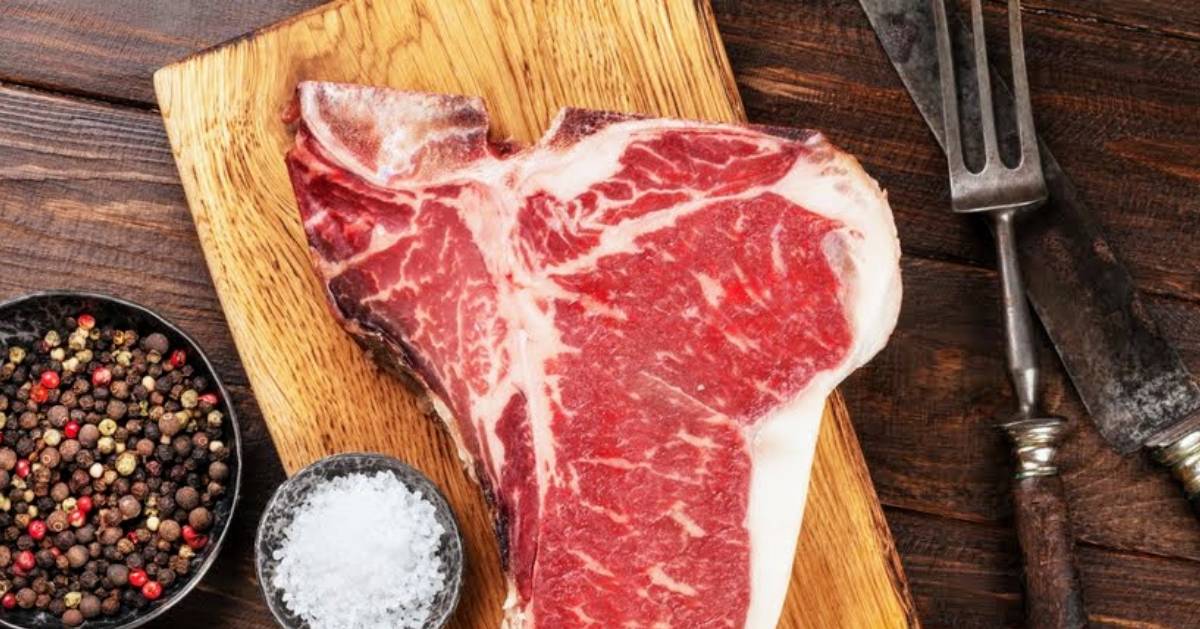 Nessle Bros Meat attributes their success in large part to the aging process of their meat.
Nessle Bros Meat sells wholesale and retail products available for pickup at 2945 Route 74 in Greenwich. This small family-run butcher shop is subject to availability from larger processing facilities, so be aware that prices change often. Their store is open Monday through Saturday, 8am to 5pm, or you can browse their products on their website and call an order in.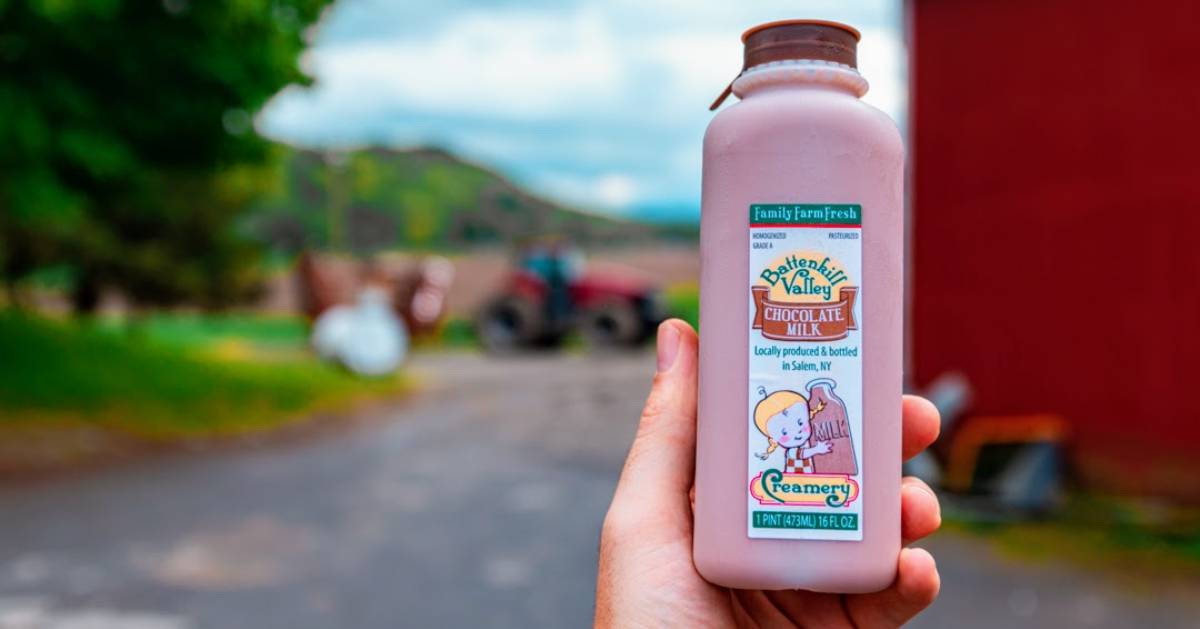 Some say this chocolate milk is beyond compare. Can you taste the difference?
Battenkill Valley Creamery's store is open daily at 691 Route 30 in Salem from 6am to 8pm with milk, eggs, coffee, cheese, meats, and maple syrup. The ice cream parlor is also open for takeout, although they are only offering hard serve at this time. In addition, they have a home delivery service to the Saratoga Springs area.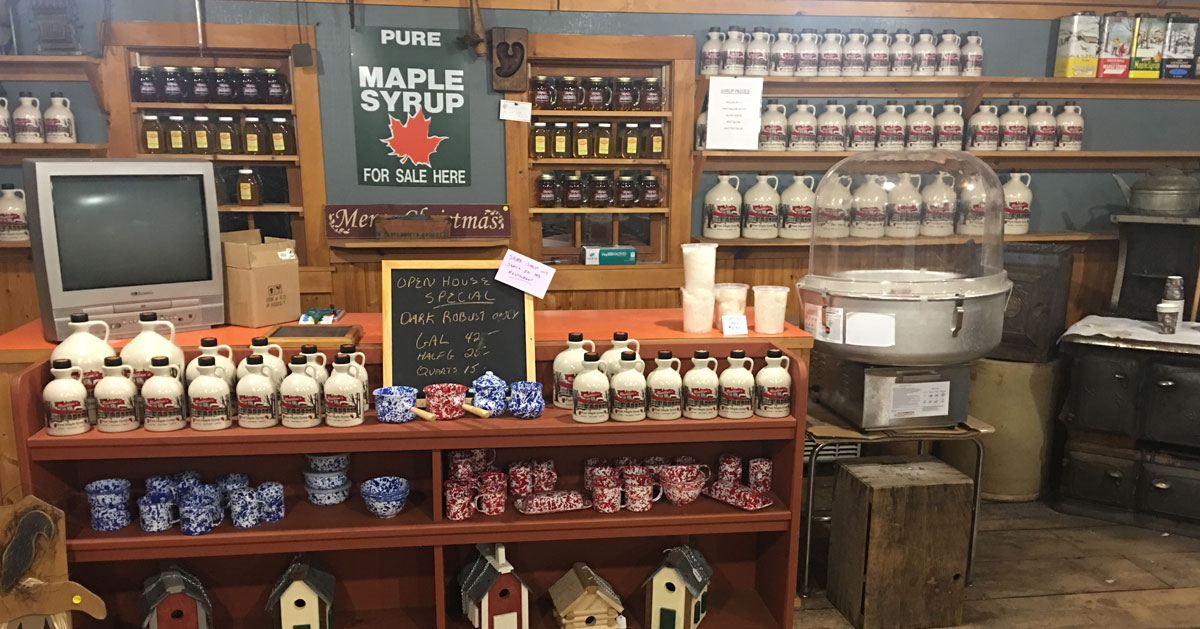 The Rathbun family has been producing maple syrup for over four decades.
Rathbun's Maple Sugar House may have had to temporarily close their restaurant, but they have a slew of delicious items from maple syrup to maple candy to maple cream to maple sugar, and they're all available for shipping online. You can also purchase their products from Schoony's Country Market in North Granville at the same prices.
Yushak's Supermarket offers smoked meats, homemade baked goods, and more. They're open daily from 9am to 6pm and are located at 1042 County Route 61 in Shushan. You can also enjoy a takeout menu on Sundays, with options like hot and sweet sausage with peppers and onions, all-beef hot dogs, and marinated chicken breast sandwiches.
Make sure to visit the above farms and businesses on their websites or Facebook pages before heading out! (Or call ahead.) The availability of produce and other items changes frequently due to the weather and other factors, so make sure you know before you go, or check out all your options before ordering online.